As a business owner it's a real disappointment when one of your best team members leave to move onto another job.
Having to replace their position is enough of a stress as it is. But on top of that you're expected to have a farewell party to celebrate their new journey.
I've found that as a business owner, it's sort of an awkward position to be left in. I mean, do I turn up and pay for it?
I used to do this, feeling like it was my obligation in a way. But I never liked these parties. It's because you feel disappointed. Sure, you're happy for the person and they did amazing work for you. But you've spent years and years of time to train them and now they are running off to your competitors.
And often times, they boast to your staff about how much more money they are making. It's just not a great situation to be in.
So in this post I'm going to share
the true costs of employee turnover

what really inspires employees to be productive and committed

how we mixed things up at CSC to produce better culture and outcomes

7 powerful tips to creating a culture that people love so they'll never want to leave.
Losing Staff Costs Your Business
Any business owner knows that the price of employee turnover costs your business a lot. And it's interesting because although money might seem like the most important thing at the top of most people's agenda, this isn't the case.
What really inspires employees is meaningful work. To be part of something great. To feel like they are involved as part of a team.
Here at CSC we measure our culture and the values we live by every week to assess employee happiness. Sure, it's subjective, but it gives us a baseline to measure our how happy our staff are.
I've found that the better the culture, the stronger the team and the less impact you have when somebody leaves - if they leave at all.
Time For Change
Here at CSC we recently stopped having goodbye parties and swapped to having welcome parties instead.
What inspired this change was attendance at a Jack Daley workshop and then I read something he said in the Exchange Magazine that really stood out to me.
"Sure your competition copy what they can, but there are two things they can't: your people and your culture".
So I decided that having welcome parties was much more important to the culture of CSC, than having goodbye parties.
Your Business Culture Really Matters
At CSC we are big on culture and our 65% annual growth rate speaks in volumes that what we do works.
Think about what usually happens on the first day when someone starts a new job. They get thrown into the deep end, then at the end of the day they go home overwhelmed and all they get is their significant other or family member ask "how was the first day at your new job?".
Their usual response is no doubt something like "Yeh, it was good. They trained me, gave me all these manuals and instructions and left me to figure it out. It was pretty overwhelming really, it's so busy there".
Or they might just say "It was really stressful. There wasn't much training and I just got thrown into the job".
Instead, imagine if the new employee turns up on their first day and there is balloons, a party, and a team lunch to celebrate their arrival. After their day of work, they leave with a box of chocolates and a bottle wine so they can go home and celebrate with their loved ones as well.
Imagine how delighted and excited they will be by this. It's probably never happened to them before and from the very outset they experience a sense of belonging.
Our Steps To Keep Building CSC Culture
1) Start new hires on Friday
Nothing like having a celebration right off the bat, then a weekend to follow right? A great way to build initial connection. Your clinic should be slower on Friday and the training won't feel so busy & rushed.
Follow @thericklau on Instagram
See my journey as I help clinic owners build kickass businesses #clinicaccelerator
2) Be personal with written cards
We personally write hand written cards to staff all the time. And we give them nice gifts like David T teas or chocolates, or something nice that is personalized to that staff member.
We focus on recognizing accomplishments by putting them in writing – handwriting.
Typing emails and instant messaging is clearly much more convenient, which is why an employee who deserves special attention will recognize the extra effort behind a handwritten note. A letter has that personal touch; the receiver knows that the owner has taken some time and effort to create a special communication just for him or her.
3) Spoil staff by providing lunches
Everyone loves great food or ice cream. So we often provide free lunch during our meetings, during birthdays or when we just have an awesome week.
It's easy to initially cringe at the expense. But the employee appreciation far outweighs the cost, and it keeps people engaged within the office, rather than having employees leave for lunch - boosting productivity, connection, and commitment.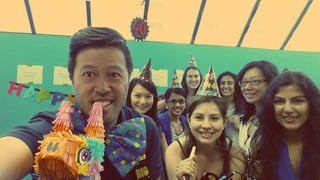 4) Create a Wall of Wow
In our office. we have a Wall of Wow where we take the opportunity to celebrate our small wins by pasting them on the wall.
We have daily huddles or daily scrums where we review wins/stucks/goals, which gives us an opportunity to celebrate when possible, putting it on the wall as a reminder. Then we review the wall on a monthly basis.
Our wins can be anything from a great review from a happy customer, to achieving personal goals, to great emails sent to team members, to awards won, having a baby etc.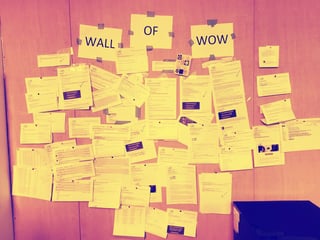 5) Have a CFO (Chief Fun Officer)
In the office, the job of the CFO is to promote great culture within the monthly budget. This position rotates across our team members so everybody has a chance to be responsible for creating fun at work.
Here are some events we've had: private team yoga session, pedicure and manicure day, learn how to box with boxer, and food truck fridays. It really can be anything, and it really is fun - exactly what it's meant to be!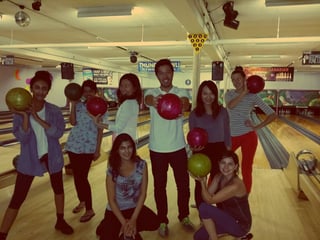 6) Celebrate Christmas with a BANG
We go all the way at Christmas and do it family style. Everyone brings their entire family, including children, husbands and wives.
We are so appreciative of our families because they support our wonderful staff. Last year we went to Whistler and we all stayed at the Westin Hotel. This year we are going to Victoria and partying like royalty at the Fairmont Empress.
7) Create regular bonuses
We set a quarterly 'HomeRun Bonus'. If the company hit its goals everybody gets a nice bonus each quarter. All employees get this after every 3 months because we are a team.
There's even an opportunity to hit a stretch target where they get 150% more.
We really go the distance to protect our culture and we love our people.

You might look at all of the things above and think "My business can't afford this kind of thing". But I'd prompt you to question how much it costs when somebody leaves your company and you have to spend 3-4 weeks to retrain them.
And think about the negative impact and moral that occurs when people leave, and the fact that your customers notice they are gone.
At CSC we treat a lot of these costs as part of the salary expenses and see it as an investment in our people and culture.
Like Jack says:
"Sure your competition copy what they can, but there are two things they can't: your people and your culture".
The high turnover rate of admin team and clinical team can cost your business a lot of money. One thing I've learned is it costs a lot more than a few free lunches, hotel rooms, and thank you cards.
And funny enough it has a pass on effect. You find you are spending less on advertisements and physiotherapy marketing, and you put that money into making your staff happy. As a natural consequence this generates amazing customer experiences that will increase your brand and bring in massive amounts of new business.
That's exactly what has happened here at CSC.
Related Articles
Take the Quiz: How Engaged Are Your Clinicians and Employees?
Discover the Secret to Inspiring Employees for Rapid Growth
10 Easy Steps to Creating Core Values That Will Make You Millions
Be Better At The Front Desk: 5 Easy Tactics You Should Know
Hire a Better Front Desk Team: Use These 6 Hiring Tactics
Related Products To This Article