Social media - Facebook, Twitter, LinkedIn, Instagram, Snapchat...ahhh. It all seems too overwhelming!
But, you also know social media is HUGE. You've heard it is an effective marketing channel. But you don't know where to start, which platforms to choose, how to get a real return on investment and where to find the time.
Well, by the time you're finished reading this, you will have some proven, practical social media strategies that will help you boost your practice.
However, just one key tip before you get started: make sure your clinic is answering the phones and saying the right things to convert callers into booked appointments.
Make this your first priority, otherwise you'll be wasting a lot of your marketing money and efforts to drive phone calls that don't get picked up.

In any case, here you'll learn:
The main objectives of social media

5 practical strategies you can use starting today

Lots of examples from Myodetox, PhysioRoom, Strive,

Calgary Core, Physio2U, Nova Physio & Bellefleur

Getting the most out of social to boost your brand and business

Tools and tips to be more time efficient on social
Why Do You Want to Use Social Media?
When I ask clinic owners "Why do you want to use social media?" they often say "Because everyone is doing it."
Sure, that may be true. But the main social media objectives to aim for are:
To build and manage your online reputation

To build your brand

To give your clinic a personality and voice that people relate to
Let's dive into some tactical strategies and examples to stop you from falling down that big rabbit hole time sucker trap and help you get the best out of your social media pursuits.
1) Get New Patients with Facebook Remarketing
Have you been to a website and then seen their paid ads follow you on Facebook, Twitter or when browsing Google?

That's remarketing.

Remarketing is a great way to use social media to help you reach potential patients who have already visited your website but didn't call to book an appointment with you. You can use Facebook, Twitter, and Google display network for remarketing.
For instance, imagine a potential patient starts their search in Google, then they visit your website. After that they might research some of your competitors and then they visit Facebook and get reminded about your physiotherapy clinic with an ad in your newsfeed. Suddenly, your clinic ad seem to be appearing everywhere as you go to different websites and their mind is directed to call you as the prefered physiotherapy clinic.
And here's a key tip: If you have a unique value proposition to get them to call you - for example, a free lower back pain workshop, a no obligation appointment, or a free self-treatment guide for back pain - then bam, suddenly you've captured their email or they give you a call.
Your unique value proposition is where you put remarketing on hyperdrive.
Check out Facebook remarketing or ask your digital marketing agency to help set up a couple of campaigns.
GET MORE DOCTOR REFERRALS
Discover 19 Killer Secrets to Getting an Endless Flow of
Doctor Referrals To Your Physiotherapy Clinic
2) Boost Your Online Reputation and Get Your Phones Ringing
The more social proof you give potential patients that you are the best clinic to solve their problems, the higher chance they will select you. When a customer searches for a service online, both Google reviews and Facebook reviews show up in the search results, which gives you the perfect opportunity to shine.
For example, if you search 'Calgary physiotherapy,' who would you choose?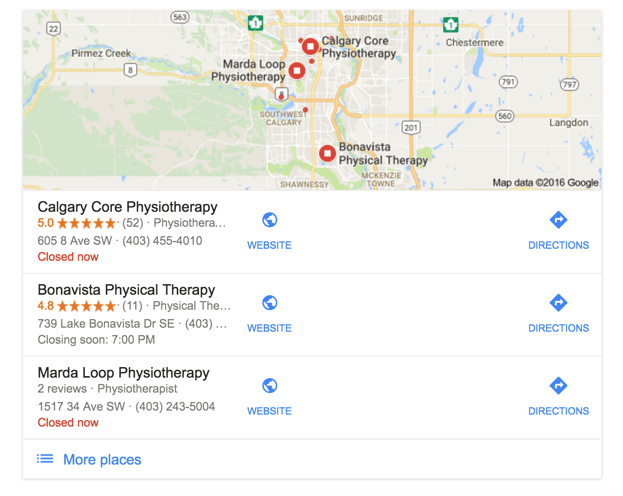 Would you choose a clinic with over 50 reviews and a perfect 5-star score? Or would you select a clinic with very few reviews?
If you chose the clinic with over 50 reviews, that's exactly what the patient is thinking too. We are living in a world of consumerism and Google reviews is the easiest way for patients to compare. According to Zendesk, 88% of customers are influenced by online reviews. Your reviews build a powerful social currency that your competition can't beat.
CSC has a perfect 5-star score and 49+ reviews - the highest number of reviews for any healthcare business in the clinic supplies arena. We've been actively building this by asking customers to leave reviews.
Put a system in place to get patients to leave google reviews for your clinic. Ask them in person, email them, make requests on Facebook - just ask. Don't be discouraged if the majority don't leave reviews because stats show only 3-5% of people will. Just keep on asking and within 6-12 months you'll build your online reputation, have powerful social proof and be driving more calls to your clinic.
I have a great system that works and is automated. If you want to find out, find me on Instagram or Twitter @thericklau
3) Build Your Brand and Trust
Consumers are usually trusting their first choice, which is social proof and social media.
Make your social pages more than just business pages full of self promotion and empty posts. Give your physiotherapy clinic a personality and voice that people can relate to. Build a community of patients and fans that know, like and trust you.

The way you build brand awareness and personality is through sharing great content on a regular, consistent basis over a long period of time. We're talking at least one post per day over months, if not years, not just sporadically.
Sharing your posts and links not only builds community engagement and trust, it also gives Google positive ranking signals to boost up your SEO and website authority, which all leads to more traffic back to your website.
What type of content are we talking about here?
Here is a list of suggestions:
Share photos of all your clinicians to give your clinic personality

Show off any community work or activities you're involved in

Share behind the scenes photos

Share inspiring quotes that your specific audience will love

Post true or false questions

Share your blog post links and encourage comments

Share announcements and event updates

Post helpful videos made be your clinic

Post patient documentaries
If your content is really good, my suggestion is to use paid social media on Facebook to quickly grow your audience, your brand, and your revenue. In Facebook, you can zone right in and choose demographics and geography to select exactly who you want to target.
Another great way to get ideas is to look at what other businesses are doing. Here are some real life examples to inspire some ideas for your practice.
On Facebook, Nick Lo from @physioroomvan has great content and images that showcase their physiotherapist, community involvement and team culture. I also love how they use a 'Book Now' button directly above their review status to drive people back to their website to book appointments. A very smart place to position their call to action.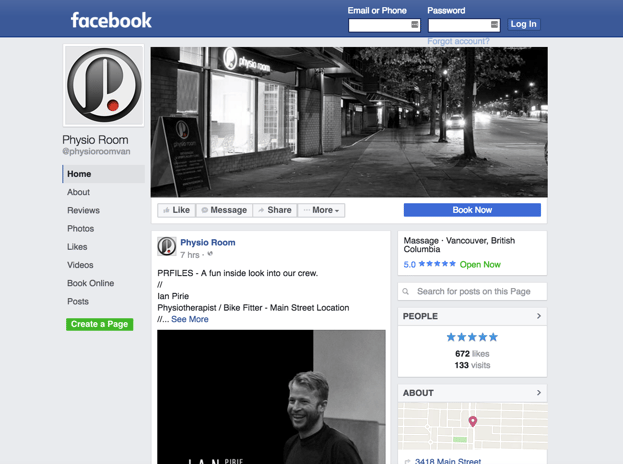 On Facebook, @strivephysicaltherapy uses video documentaries with their patients so viewers get to see the practitioners working with the patients and how they are progressing. Look at how many videos shares - 12K views with 3K clicks back to their website.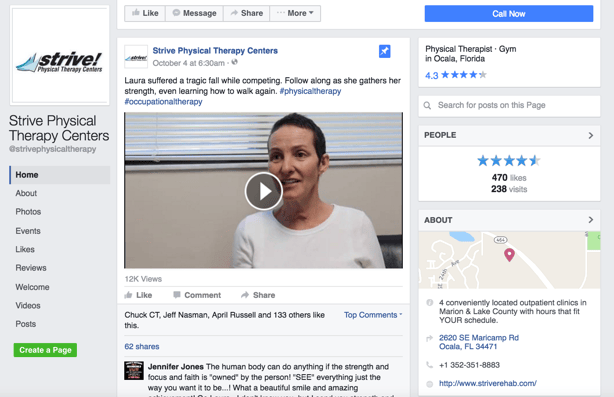 On Instagram, Vinh Pham @myodetox in Toronto have a huge 18k following and really work their imagery for manual therapies, posting motivational or inspiring quotes alongside them. The physiotherapists are definitely socially savvy and get very involved with their community, working with big influencers like Nike and Samsung.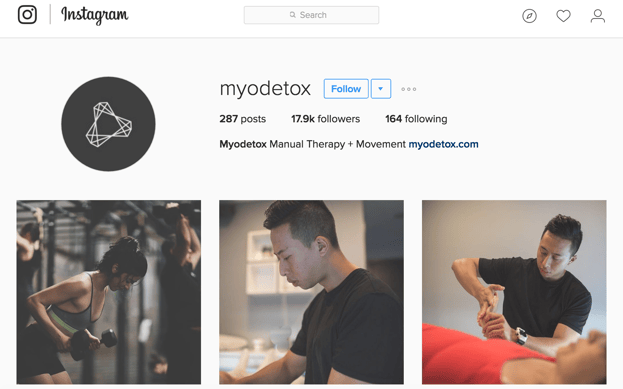 On Twitter, Jeff Walsh @novaphysio in Halifax andJason Bellefleur @bellefleurPT in Ottawa, post their charity events and community engagement and get likes, retweets and build brand awareness and personality.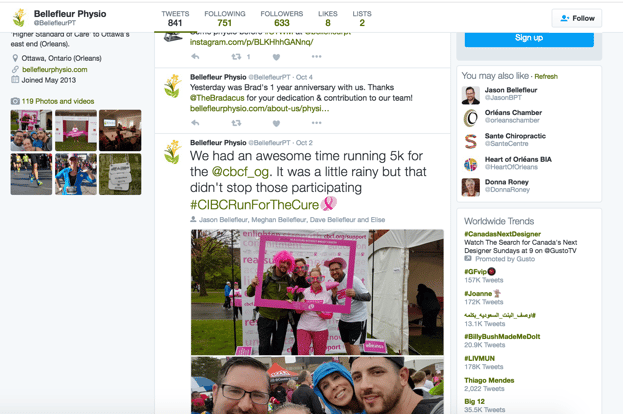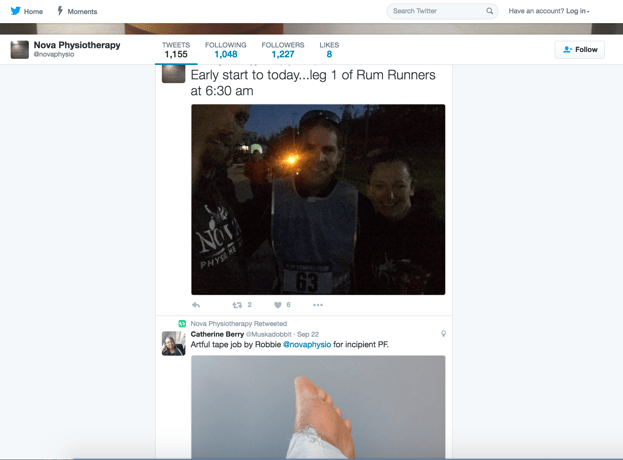 On LinkedIn, Kim Hall Physio2u Mobile Physio posts photo documentaries of patients in treatment, along with pictures of their team to build trust and authority.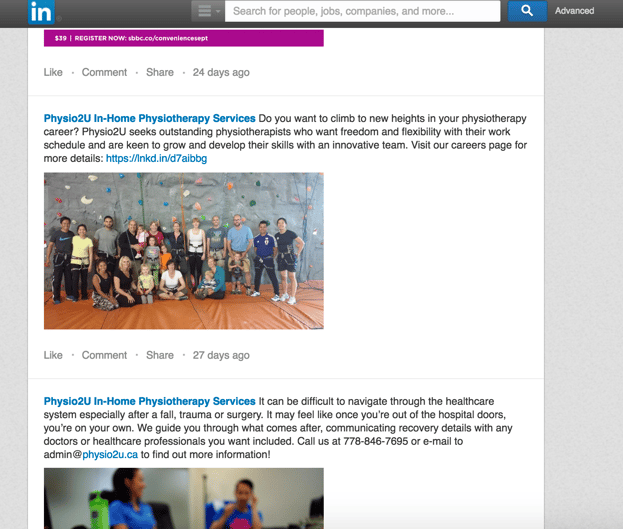 4) Who's Your Target Audience and Where Do They Hang Out?
Neil Patel says: "Every action you take on social media should be driven by strategy."
While you don't necessarily need an elaborate strategy, before you start blatantly shouting out to everyone, you should determine WHO you are talking to and work out what they want and need.
The whole idea of sharing content is: it needs to be useful or inspiring.
Share content that matches the needs and wants of your target audience. Use a variety of content types and make your profiles interesting. Create a social presence that people actually want to follow.
And remember, social media is about building relationships, trust and reputation. It's not about selling all the time!
As for the best channels to use, trying to be everywhere can be tough, so work out how much time you have for social media and who will help you achieve your goals. Will you hire a company to help or use your front desk team?

Next, start conquering one channel first before you move onto the next one.
According to CanadianInternet.com, 71% of Canadians use Facebook, 49% YouTube, 27% Twitter, 23% Pinterest, 21% Google, 20% Instagram, 12% LinkedIn, and 9% Snapchat. As you can see, the most popular social network by far is Facebook.
Facebook - 1+ billion users - largest opportunities to share

Twitter - 241 million users - short sharp messages that count

Instagram - 200 million users - picture and video oriented

LinkedIn - 300 million users - business oriented rather than consumer

Pinterest - 200 million users - image based posts that inspire action and discovery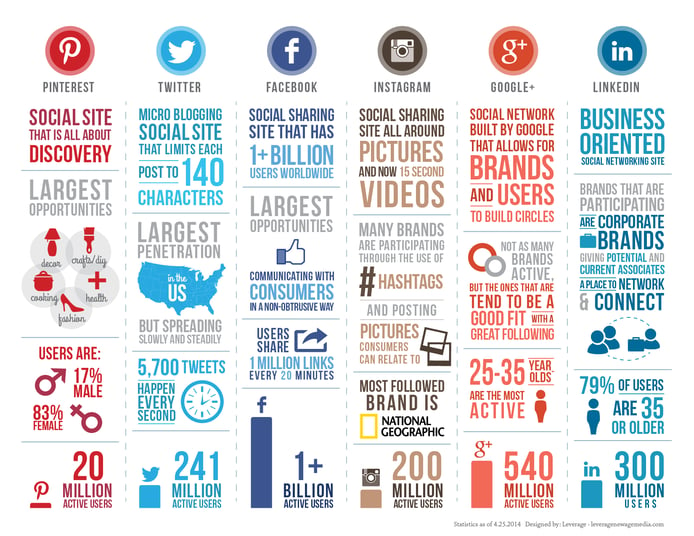 5) Manage Your Social Media Channels With Hootsuite
Think about how much time you waste logging into each social media platform so you can post content to every single one! Stop doing that now.
You can use a tool like Hootsuite, which also happens to be a Vancouver, BC company so you'll be supporting our home grown Canadian tech business.
Tools help save time and the advantage of Hootsuite is they cover most of the social networks and you can post to multiple accounts simultaneously and manage comments, shares, and engagement all from your Hootsuite dashboard.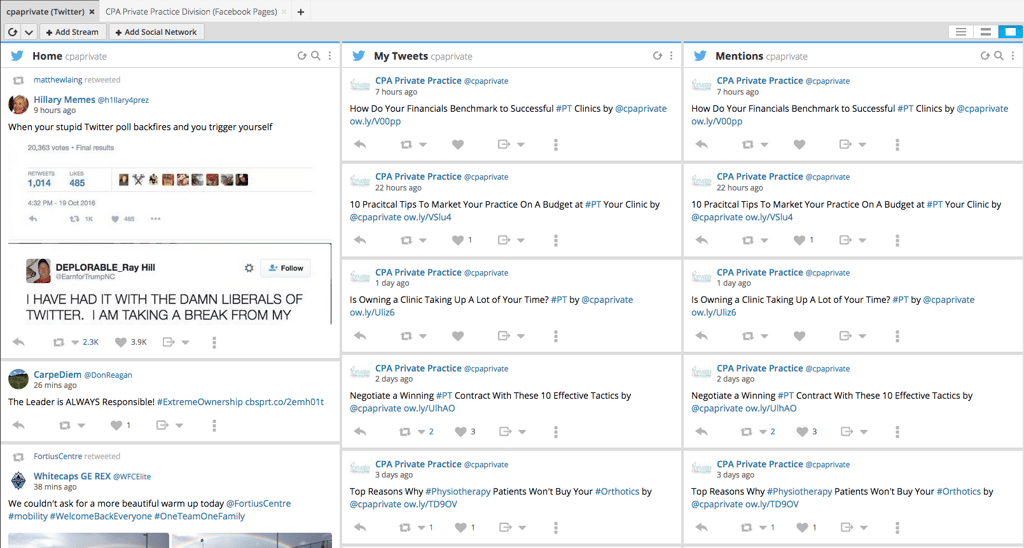 Put all these social strategies to the test. And remember, make sure your front desk is answering the phones!
Then, when you do any type of marketing, you'll be getting maximum results from your efforts.

Find me on Instagram @thericklau. I love working with clinic owners so let's chat about taking your clinic to the next level #clinicaccelerator
Related Articles
How To Use Extended Health Benefits Trends to Attract New Patients
Don't Get Left Behind: 5 Physiotherapy Marketing Hacks Every Clinic Owner Should Know
Boost Your Patient Engagement With This Metric
How To Give and Get Customers To Love Your Business
New Changes To Adwords Brings More Competition For Clinic Owners